Collaborate
Share your experiences and perspectives - collaborate with us.
The P4HE Collaborative thrives by hearing from you!

Resources Headline Intro
Featured Resources
Keep up with the Collaborative by listening to P4HE podcasts and catch up with the discussion as part of our webinar series.
Resources
Resource Image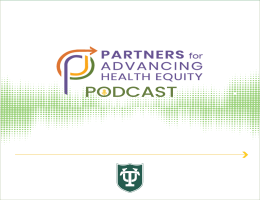 Resource Title
Partners for Advancing Health Equity Podcasts
Resource Image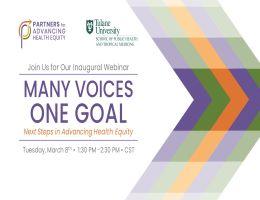 Resource Title
Many Voices, One Goal Inaugural Webinar
Resource Image
Resource Title
Next Steps in Addressing Pregnancy-related Mortality Webinar
The P4HE Collaborative welcomes everyone from all walks of life and experiences to drive the advancement of our common goal – a society where everyone has the ability to live the healthiest life possible. As a complimentary member, you will be able to:
Actively collaborate and connect with thought leaders and funders in health equity
Access an extensive, centralized online repository of health equity resources
Have access to support and learning to advance equity within your organizations
Attend webinars and workshops aimed to advance solutions to health equity
Want to become a P4HE Collaborative Member?
A Member shares a commitment to the mission and vision of the Partners Advancing Health Equity Collaborative and wishes to contribute to the work.
A Member supports the mission of the P4HE Collaborative by sharing ideas, participating in dialogue, sharing events and resources, serving on committees, and sharing the work of the P4HE Collaborative with other networks.